May your year be one of unlocking your talent, heart, wishes and love. Marie Seltenrych
Author
Hi, My name is Marie Seltenrych and I own this website.
I have been telling stories for a long time and writing them down over the past 20 years or so. I just love a good yarn and the excitement of seeing someone's eyes widen as the story progresses. During covid last year 2019-2020 I completed a full story about a knight in broken armour, Garty Musdo. He is seriously funny but charming.
My husband was the first to review this book and he could not stop praising the character. It is the first time I have written thoughts and desires from a male perspective and it was really a great exercise and fun to do. Men seem so much less complex than women. As a complex woman, I believe this to be true.
I love all the books I have written. I fall in love with my characters and allow them to rule my life while I am writing their stories. It is a very exciting method of writing and sometimes challenging when I reach a writer's block. It should be called, a "character" block. Because it is the character who will not yield to the master!!
Wishing everyone the best Christmas despite the Covid warnings and the terrible news items we are all seeing daily. My heart goes out to all those who have suffered loss this year including my own family, who lost our beloved Sam in Scotland. (R.I.P) Those of us who have survived must be thankful for just that at least.
Please obey the medical directions for the Covid challenges we are receiving daily. Those medics and leaders are doing their utmost for us all to reach another milestone, 2022. God bless you and keep you and may His Face shine upon you continually. Love Marie
https://sendfox.com/marieseltenrych
pinterest-0a44f-1.html

Annals of the World
by
James Ussher
My rating:
5 of 5 stars
I love this record of the world. This edition is rather large, but I have read through a lot of its pages. I mainly use it as a reference for Biblical facts and world facts. It could be called my "Fact checker". Because of its antiquity, it rates itself and is blatantly honest.
Lately I have been using the Appendix F. MAPS for Iona and Western Asia Minor, which are of interest to my study. I have also studied the Conquests of Thrace and the Euxine, and Conquests of Alexander.
Every Bible student and those who want to set records straight would benefit from owning one of these volumes. I look forward to seeing more editions that are easier to manage. This one is not a hardcover volume, but paperback and a little frail. I definitely would prefer the hardcover edition as it gets a lot of work, going in and out of my bookshelves.
Revised and Updated by Larry and Marion Pierce, November, 2006. They are amazing people. May God bless them. And, being of Irish birth, I am surprised and delighted to know Ussher was born in Dublin, 11 miles from where I was given birth (Leixlip).
View all my reviews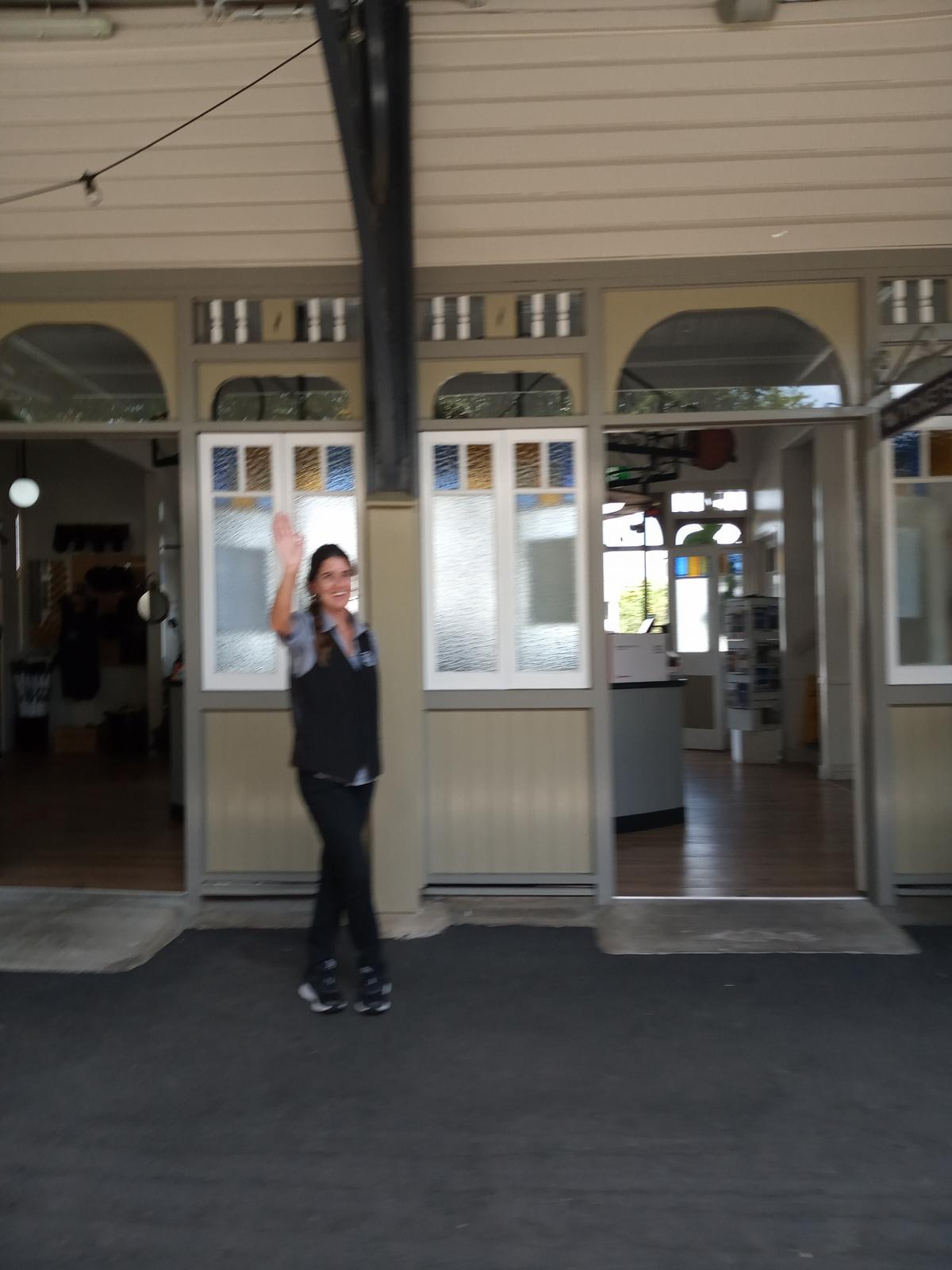 I caught this lovely lady waving as we came to Gympie on the rattler. I hope she will forgive me for posting this, but it is a bit blurred. However, it serves to say, Goodbye to 2020 and "Hello" 2021.
We all get a buzz in saying goodbye to something that has given us pain and grief, yet in the same moment we are saddened that we had to do this, or even that this is not yet done and dusted. We are complex in every way and our thinking patterns are sometimes confusing. For all of the world's population, we are happy to see a year go by and to have survived, even knowing that the year ahead may be just as difficult, or close to the previous year. However, we now know what we did in 2020, how we reacted to changes and shopping distancing, family distancing. In fact the whole year the buzz word was "distancing". Even last night at Redcliffe, where shops were buzzing with their wares (market), there was the formidable sign, Distancing 1.5 metres. This constantly reminded patrons to remember the problem lurking still.
Vaccines are on their way, governments are struggling to cope with demands and distraught citizens are fractured and broken.
How should we view this new year and can we cope with prolonged struggles with finances, family, lack of love and nurture and the constant reminders of how terrible the Covid has become?
I have found that when too many struggles emerge at once, it can break our hearts and our emotions become raw.
We can be like the Emu, bury our heads in the sand and forget the problems ahead. Or, we can be like the horse, who must rise again and jump that strange looking obstacle!
The Lord says, guard your heart, it is the wellspring of life. (proverbs) That is a serious matter.
We must guard our innermost thoughts (and sometimes they are overwhelming).
Having someone to talk to is sometimes helpful. I say "helpful" but know that nobody knows your exact solution only you and God. So, if nobody is present, speak to the Lord.
Or even to the cat or someone who is not present (human). It will help with the stress build up inside your soul (heart). We all need a sounding board and we can find our special one in a special place where we go.
Jesus went off into the night to pray, alone where he could be private and talk freely to God. We can do just that as I believe we all need to do that from time to time.
Look at the night sky. I noticed that the stars were shining brightly last night at Redcliffe. Nothing can diminish them.
Extra lights do take away some of their form, but we can still see them looking down from above, like a beautifully carved ceiling. Too far away to fall and hurt us and just far enough away to let us know we are actually not alone.
This world is the place designated by God, the creator for us to live and thrive. Sadly the world has problems, lots of problems, but nothing that cannot be solved with a little thought, a prayer, a talk or a scream!
Or, just look and smell the beautiful flowers popping out at the moment. (Here anyway)
This year, I will make a informal resolution to be Kinder, helpful, obedient (to the difficult rules), and do do something new.
Make a cake, create a collage, or even write a book. That is what I will be doing.
I am also doing a study on a very heavy subject, history, and connecting the dots with Daniel Chapters 10, 11. It is mind-blowing and I may get it together well enough to publish my findings.
Last night, we had no fireworks in Redcliffe. We missed the early round (barely heard it) and waited until 10:15 PM when we went home.
But, today I had a most wonderful surprise, a face time with my beautiful sister, Jo, in Cyprus, and her family there (some of them).
It was just after midnight and they were eating... another fine thing to do this year. Eat something that you have never eaten. It gives you new memories to cover the old bad ones a bit.
Another thing to do: find humour in everyday things and words.
Welcome:
Click the link:
My Author Page at Amazon.
Read: Five Golden Rings & A Diamond -
avoid the bad